Whitlam, Gough | 1916-2014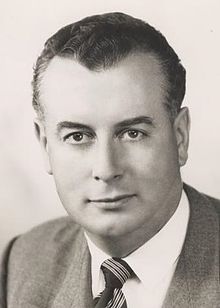 Gough Whitlam

Né le 11 juillet 1916 à Kew (Melbourne), en Australie
Chef du Parti travailliste australien (9 février 1967 – 22 décembre 1977)
Ministre des Affaires étrangères (5 décembre 1972 – 6 novembre 1973)
Premier ministre d'Australie (5 décembre 1972 – 11 novembre 1975)
Chef de l'opposition (11 novembre 1975 – 22 décembre 1977)
Décédé le 21 octobre 2014 à Elizabeth Bay (Sydney), en Australie
---
Nikki Tait, Jamye Smith, « Australian leader who introduced far-reaching social reforms », Financial Times (Royaume-Uni), 20 octobre 2014.
«...Although his own term was relatively short, and its end was marked by a tumultuous constitutional row, he was credited with laying the foundations for an era of Labor rule under successors Bob Hawke and Paul Keating. Whitlam could lay claim to being the founder of the modern Labor party in Australia. Ahead of social democratic counterparts in many other countries, he understood the need for a left-of-centre party whose appeal extended to the liberal middle class as well as its traditional blue-collar supporters. Under him, Labor won power after 23 years in opposition. That had been a period dominated by conservative government under Sir Robert Menzies, during which economic and cultural ties to the UK were still strong. Whitlam thus became the first Australian leader to edge his country out of the British shadow. During his government's brief tenure, changes instigated ranged from the symbolic - such as the quest for a national anthem to replace "God Save the Queen" - to the substantive, including the open declaration of an independent foreign policy. Other landmarks included the final end of the "white Australia" immigration policy, greater efforts at reconciliation with the aboriginal community and more emphasis on homegrown rather than imported cultural activities. Australia also shed its own, limited, colonial role, with Papua New Guinea gaining independence in 1975. »
Terry McCrann, « Gough Whitlam was a great Australian, but terrible PM », Herald Sun (Australie), 22 octobre 2014.
«...Whitlam & Co had come along a decade earlier at exactly the right time at the start of the 1970s. Again, they presided over more general cultural change in a way that could not have been done by either a Coalition government of the time or the pre-Whitlam Labor Party. This was captured most precisely by his recognition of China. It is almost impossible to imagine the Australia of today without the changes and, yes, even the chaos of those three rollercoaster Whitlam years. That's why any balanced assessment of Whitlam, his government and its consequences is a difficult and complex thing. Across the spectrum from Aboriginal land rights, no-fault divorce and Medibank/Medicare, and on to the massive expansion in government spending (and taxation) and the 25 per cent across-the-board tariff cut - are proof of breathtaking leadership and reform, to supporters, and disastrous financial incompetence and the seeds of social malaise, to critics. All that said, he cannot other than be regarded as one of the greatest Australians in terms of leaving a huge and indelible mark on the country. »
Lenore Taylor, « Gough Whitlam's death unleashes a nostalgia for politics that transforms », The Guardian (Royaume-Uni), 21 octobre 2014.
«...Australia isn't just mourning a great politician and it isn't just mourning a long-gone era of great political change. It's mourning great politics. The flood of emotion at Gough Whitlam's death is also a sadness at the passing of a time of brave politics. It seems to have unleashed a deep nostalgia for politics that makes changes that endure, politics that transforms - not by stealth but by fighting and winning the battle of ideas. A tweet in the stream on #thankyougough summed it up. « Thank you Gough for believing in something. » Speaking to his party room, prime minister Tony Abbott also captured it: « All of us should be thinking of the vocation of politics and what you can achieve if you pursue it with vigour and a clear sense of purpose. » (...) The relentless demands of the modern media have changed things for politicians and political discourse, to be sure. But we don't really know whether fearless, imaginative, argued-through Whitlamesque reforms are still possible because in recent times no leader has really tried. Whitlam's former principal private secretary Race Mathews wrote in Guardian Australia: "Gough Whitlam believed that the proper business of politics was to secure public consent for necessary change." Despite all that has shifted in the political process, that still seems a pretty good place to start. The reaction to Gough's passing suggests Australians do still want politicians who fire their imagination, who argue their case and who dare to be brave. »